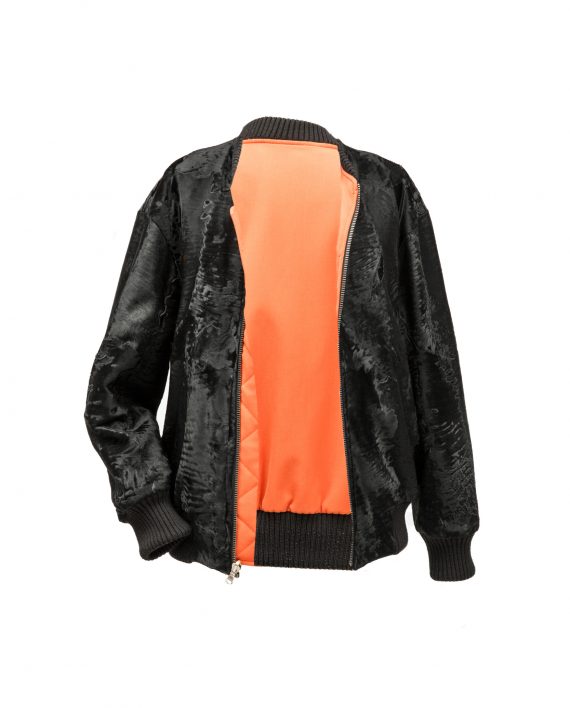 MA1 Bomber Jacket Broadtail
Team enVie reinterprets the original MA-1 Flight Jacket upcycled from luxurious Broadtail fur. This lustrous black broadtail jacket has ribbed knitted trims that add definition to the oversized cut. We like how the bright-orange jersey-wool lining (like traditionally seen on the 'MA-1').
Download the linesheet with requested measurements we need to know for creating a customized parka. If no measurements can be provided, let us know your standard size on winter jackets. Oversized style, cut to be worn loose.
Details.
Material:
Outside: 100% BROADTAIL FUR (we only use pre-existing / vintage fur from best quality – all fur coats get professional cleaned & conditioned before revision into a new garment)
Inside Fabric: 100% JERSEY WOOL
Zip fastening & press buttons front
Side pockets (on request one zip pocket on sleeve)
Wearable from both sides: Reversible to high-visibility pumpkin prange. Certainly the bomber jacket can be lined with more neutral colors as grey jersey or navy silk too.
Designers Note.
About Broadtail:
Broadtail fur – also known as "the queen of lamb" – is a very rare fur material, thus even vintage broadtail is very high in price): it is sleek, lightweight, shiny and flat, with a slight wave, like fine moiré or velvet fabric.
Broadtail is having a real comeback because there is more and more demand for furs that feel like fabric – especially as the Nr. 1 FALL TREND is all about VELVET.